Telus Health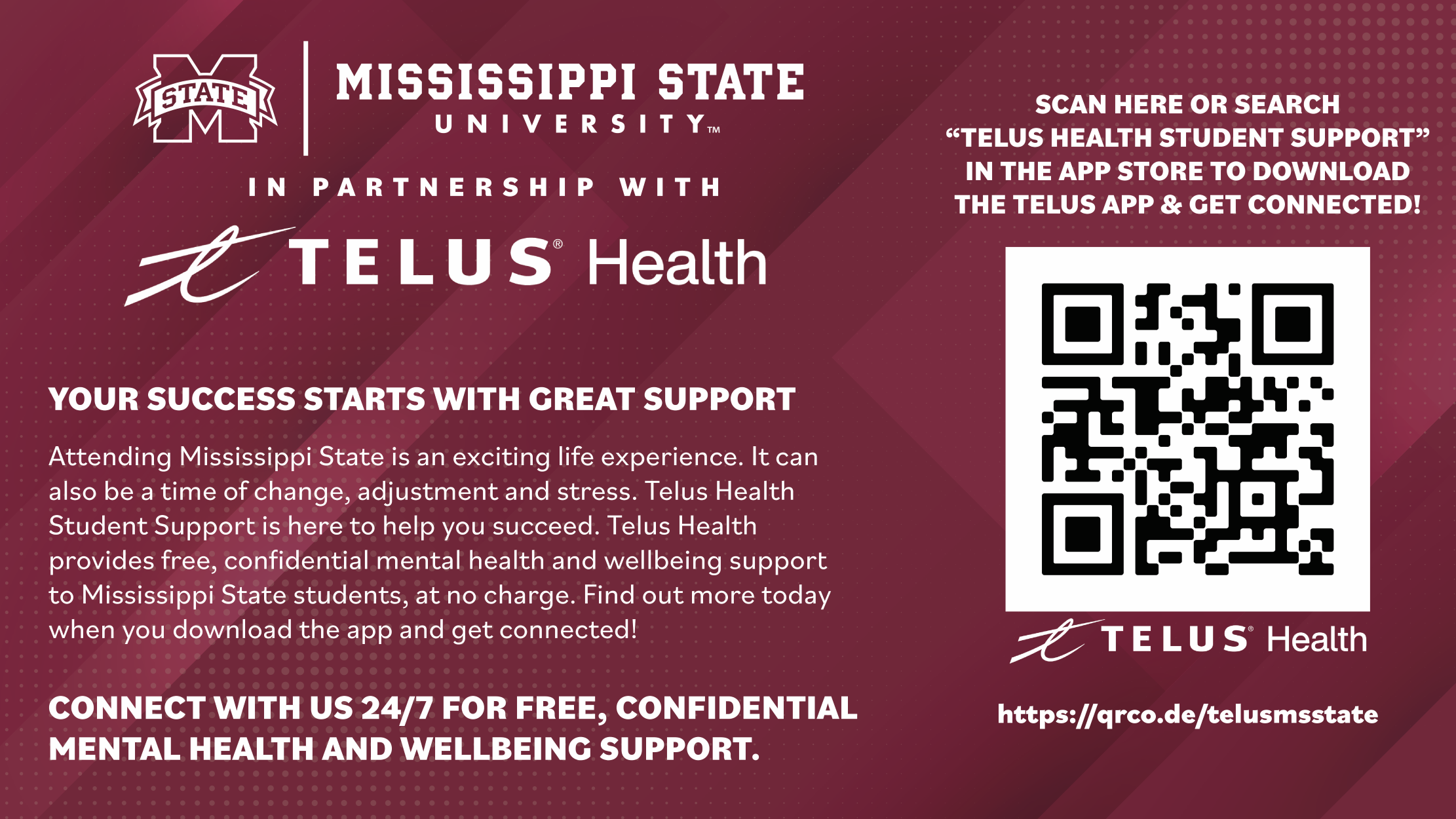 ---
CAMPUS AND COMMUNITY RESOURCES
---
Student Counseling Services 
Student Counseling Services provides free, confidential mental health services to MSU students. The counseling center is located in Hathorn Hall. To get connected, students can access the virtual waiting room through the website. Monday-Friday, 9:00am-4:00pm. After-hours crisis services are available at (662) 325-2091
---
Office of Survivor Support
The Office of Survivor Support at MSU offers confidential, comprehensive support and advocacy services for students who have experienced sexual harassment, sexual assault, sexual exploitation, stalking, dating/domestic violence, and other crimes. To obtain confidential resources for sexual assault or harassment, call the MSU Safe Line at (662) 325-3333. More information can be found on the website
www.survivorsupport.msstate.edu 
---
MSU Psychology Clinic  
The MSU Psychology Clinic is a training clinic operated by the Department of Psychology. The clinic provides high quality, affordable psychological services to the Golden Triangle and surrounding communities. Call (662) 325-0270 for a free screening. More information can be found on the website
www.psychology.msstate.edu/clinic
---
Employee Assistance Program (EAP)
The Employee Assistance Program (EAP) provides confidential assistance to MSU employees and their household members covering a wide range of family, marital, work-life challenges, and mental health issues. There is no cost to employees or household members. Three face-to-face counseling sessions are provided per year. For referral information, contact Humana at 1-866-219-1232. Additional information can be found on the HRM website
www.hrm.msstate.edu/benefits/eap
---
Telehealth Services for MSU Employees 
UMMC is now the preferred telehealth provider for MSU employees enrolled in the State and School Employees' Health Insurance Plan. Through UMMC, the Plan will continue to cover 24/7 minor medical care, medical nutrition therapy, and mental health care telehealth services, with no changes to the cost structure for Plan participants. Visit www.ummc2you.com to learn about costs and how to get started.
---
NATIONAL RESOURCES
---
988 Suicide & Crisis Lifeline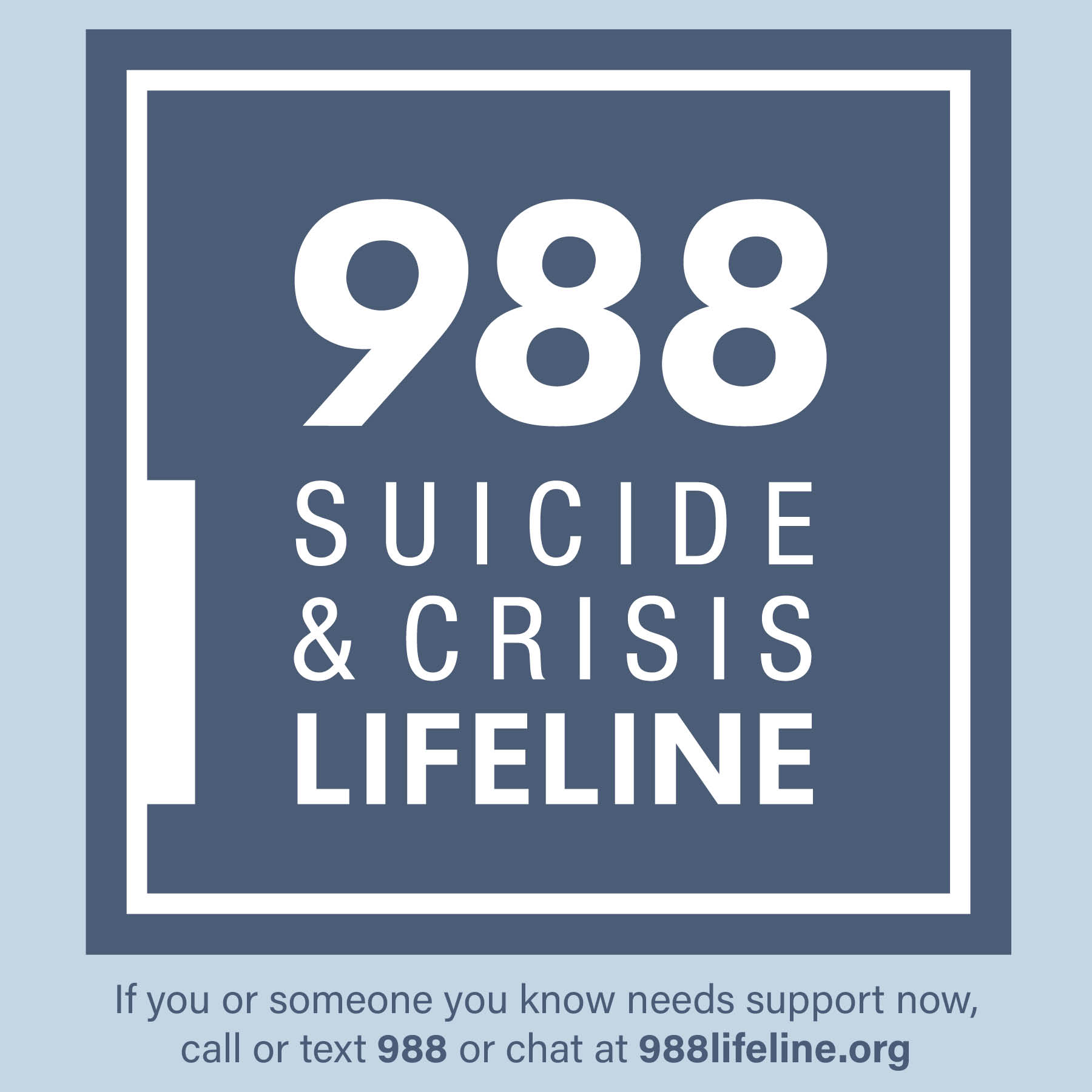 The United States recently launched a new three-digit phone number—988—an easy-to-remember way for people to connect with help and support during a mental health, substance use, or suicide crisis. When individuals call, text, or chat 988, they will be connected to trained counselors. These trained counselors will listen, understand how their problems are affecting them, provide support, and connect them to resources if necessary.
---
Crisis Text Line
Crisis Text Line provides free, 24/7, text-based mental health support and crisis intervention by empowering a community of trained volunteers to support people in their moments of need. Individuals can text HOME to 741741 to be connected to a crisis counselor.
Spanish Lifeline
1-800-273-8255 press 2
---
Trevor Project
The Trevor Project provides information and support to LGBTQ young people. Trained counselors understand the challenges LGTBQ young people face and listen without judgment. Individuals can share as much or as little as they like. To get started, either text START to 678-678 or call 1-866-488-7386.
---
Trans Lifeline
Trans Lifeline is run by and for trans people. Trans Lifeline connects trans people to the community support and resources needed to survive and thrive. To get connected, call (877) 565-8860 to speak with a trans/nonbinary peer operator.
---
National Sexual Assault Hotline--RAINN
The National Sexual Assault Hotline connect via phone 1-800-656-4673, online hotline, mobile app, or chatbot and receive support, information, advice, or referral to a local sexual assault provider. This service is available 24/7.
---
National Domestic Violence Hotline
Call 1-800-799-7233, chat, or text 88788; if you chat live clear your internet browser history if you access thehotline.org website. Advocates available to listen and begin to address what's going on in your relationship, in addition to providing resources and plans for safety.
---
Veteran's Live Chat
Free 24/7, confidential support even if you're not enrolled in VA benefits or health care. Text 838255. Responders can connect you with resources based on need.